Why you should craft with children
I used to think that doing art and crafts with my children was a messy pain in the neck that was best left for nursery to deal with, but since I looked in to it for Red Beau I have realised what a huge difference it can make to a child's development!
Mental health was the biggest shocker for me, and the main drive to put the effort in. If a child learns to craft with a parent or treasured grown up, it gives them a real sense of self. They feel as though what they have done and what they describe to you is actually important and that somebody has taken notice and really cares about what they have to say.
Art & craft is an outlet for their emotions and allows them to express themselves. They learn that it is OK to share and release those emotions which teaches them as an adult to have a more positive outlook on life and they are less likely to suppress their emotions (which is what causes a lot of mental health issues).
Crafting, especially with other adults and children, teaches a child to communicate better. If you are crafting with a child, ask them questions about what they are doing and why, like 'why is that person smiling?'. They will not only feel valued, but they will learn to describe things and create a bond with the grown up.
Similarly, if the child is working together with other children it teaches them to be a team player and how to work together towards a common goal. Again, this becomes a very useful skill for an adult working environment.
Planning and concentration is another two important skills that crafting will teach the child. With a craft project, they will need to think about what it is they are going to make, how they will do it and what they will need. Once they have set this goal, they will follow through on their planning and get a result that they can be proud of. Problem solving and fine motor skills are also in play, because they will need to work out how to fit pieces together and use their fingers or tools to make this happen.
So as you can see, crafting may seem like a hassle at first glance, but it brings so many valuable skills to your child that it really is worth the effort.
If you would like any crafting ideas then you can look through the Red Beau videos on Facebook where we have free video tutorials for crafting with children.
Danielle x
Party Ideas for girls
I'm not suggesting that these themes are only for girls, but that is whom would typically be attracted to the theme, so that is what I am basing this on.
Mermaids
There are a few themes that have really come to the forefront in the last couple of years, and mermaids are one of them.
Using blue, green and purple decorations, and a bit of netting, you can turn any room into a deep sea wonderland! Iridescent accents, or tableware, really sets it off.
The entertainment could be traditional party games with a mermaid twist, disco, or crafts.
Unicorns
Another popular theme of late, is unicorns. I have done a unicorn party for a 6-year-old recently, and we had indoor glamping tents, disco lights, hot chocolates (unicorn colours if you wanted) and unicorn themes crafts. The children had an awesome time just playing in the tents!
Dancing
Dancing is such a hugely popular after-school activity for girls, and it's great for teaching them discipline and hard work. So why not turn their favourite hobby into a birthday party?!
There are lots of amazing dance schools that also offer birthday parties and they will do all of the entertaining for you, so you just have the decorations, food and party bags to organise.
Craft
When organising a craft party, it's a good idea to think about the least messy option, while also allowing them to be creative and have fun. Make sure that you let the parents know if there is a chance that they may get anything on their clothes so that they don't send them in their best party frock!
If your child's birthday is coming up, why not send us a message on our contact page and we'd be happy to design a party box to go with whatever type of party you choose x  
How to choose a venue, and where to find it
To find the perfect venue, you need to establish the following 4 things :-

1.What's the occasion?
2.What's the budget?
3.How many guests?
4.Location!
Are you getting married, is it a baby shower, anniversary or a kids party? A great place to start for any of these, is your local tourist information board, for example Lancashire's local tourist board is 'visit Lancashire'. They often list great venues in your area.
If you are looking for a venue for a big bash, like a 30th for example, then a working mens club, a pub function room or a sports club could be a good option. The drinks are often a reasonable price and people can buy their own. They often offer the rooms for free too because they will make money through drink purchases. You can just pop on to google maps to search your area, or do a quick search online, for sports clubs/ working men clubs/ pubs 'near me'.
If it's a children's party that you are hosting, then a village or community hall is often a good choice. There is space for activities, usually a kitchen to use, and they are reasonably priced. If you have a bigger budget, then try local family attractions, like open farms and theme parks. A smaller party could always be held at home of course!
If you are getting married, then you probably won't need help to find a location as wedding venues are usually well advertised and are almost always suited to a bigger party budget! There are only so many venues that can hold the kind of numbers that a wedding requires.
Baby showers are a lovely occasion, and as they usually don't involve alcohol, or children, then a house is a nice place to host (especially if you are doing games or activities). Alternatively, a nice cafe or restaurant could serve afternoon tea and create a lovely calm and civilised atmosphere which the mum to be can relish before the mayhem begins!
I hope you find the perfect venue, and if you would like any more help or advice, drop me a message and I will get back to you.
Danielle at Red Beau
How to make a travel hook a duck game
A perfect little activity to entertain the family on holiday!
I came up with this idea while thinking of things to entertain the family on a train journey. I packed a series of little bags full of fun things to do, and this was one of them!
It really does pay to be prepared on a journey, so I hope you have fun making it, let me know how you get on.
Danielle x
Quick & Easy pompom tutorial
Great for making pompom garlands!
For more useful crafting tutorials, and party advice click here
By Danielle at Red Beau x
Planning on winging it?
You might want to read this first!.....
Apparently, indoor glamping is now a 'thing', who knew? I certainly didn't! So I thought I would give you step by step instructions on how I made mine.
There are many different ways of making these tents, but I always like to simplify things where possible, so my version is relatively simple, but it can be spruced up should you wish.
Ok, so to start with, you will need some wood. I bought 6 lengths of 18 x 44mm softwood planed lengths of timber from B&Q, and I cut them all in half to make 12 lengths, and I sanded the rough ends.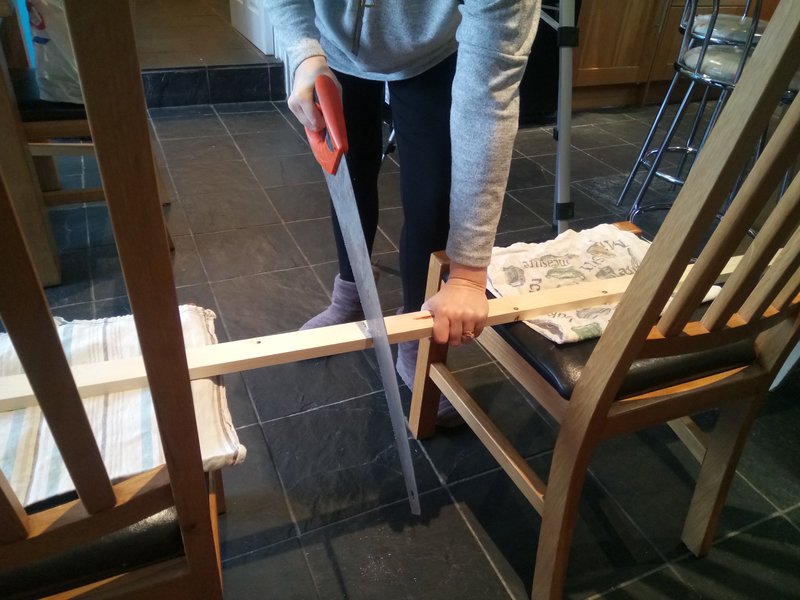 Do you like my slippers? 😆
Once I had all of the lengths of wood ready, I measured where I wanted the hole to go. From one end of the wood, I measured 3 inches down and drew a line, and then I found the centre of that line going across, and made a mark so that I knew where to drill.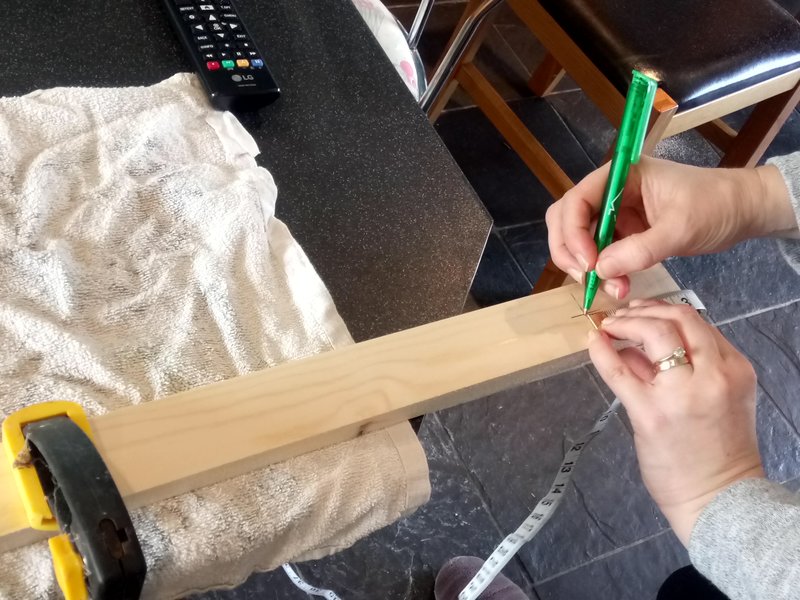 The drill bit I used, was ¾ inch, which makes for a snug fit, but any bigger and it would have been too loose. I clamped the wood down, and drilled one piece at a time. I drilled part way through one side and then turned it over to complete the hole – this just prevented too much splintering on the back.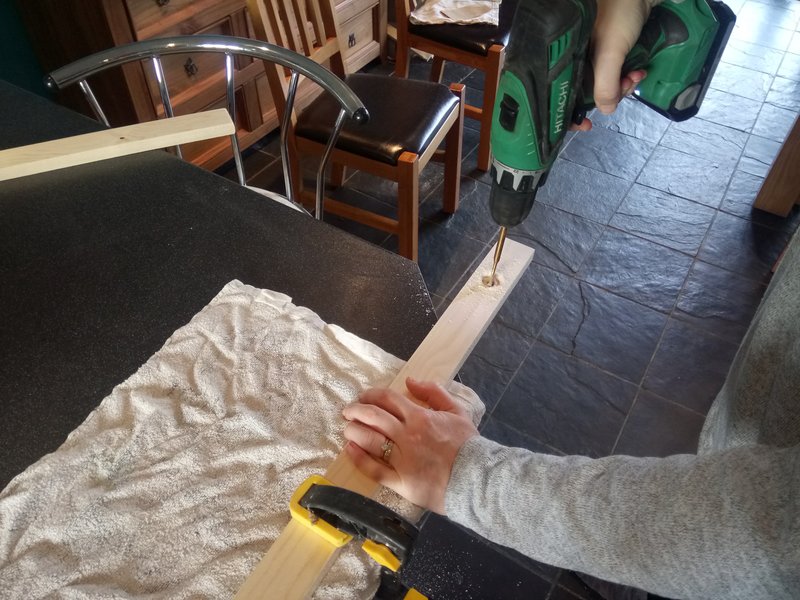 The wooden dowels, which also came from B&Q, were 47 inches long. You may need to sand around the ends a little to get it to fit in to the holes, but you can put everything together to see if it all fits before you start on the sewing.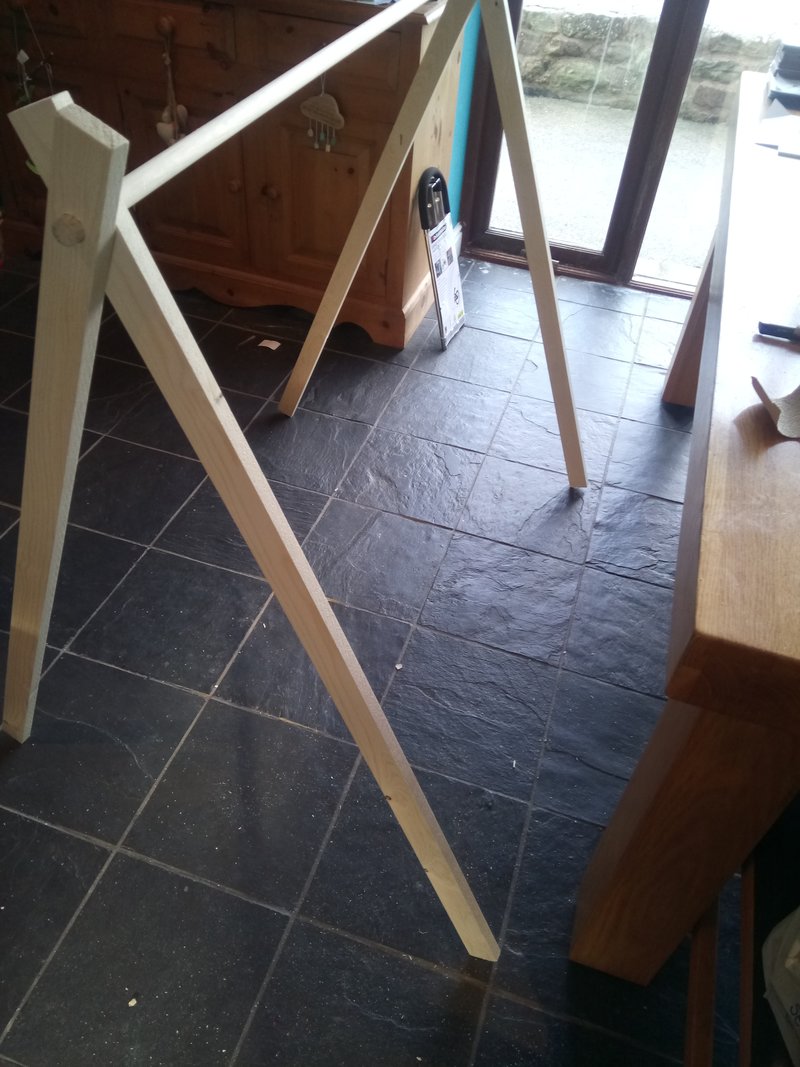 I have a sewing machine for this bit, but you could hand sew or use non sew tape if you prefer.
I just measured along the exposed centre of the dowel, and hemmed either side of the fabric to that width. I then found the centre of the sheet and I stitched a line for the dowel to slot down. Make sure you are generous with space, make the gap bigger then you think you'll need.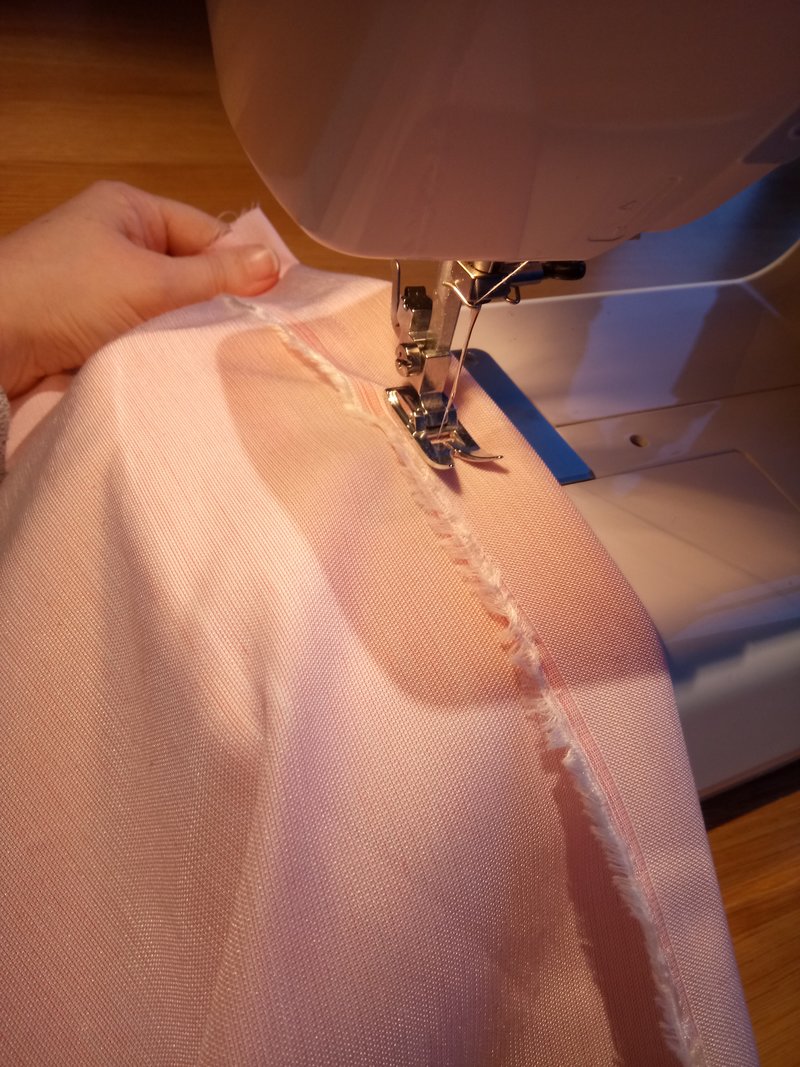 Lastly, put the fabric on the tent and measure to the floor once it's opened up, and hem the bottom to the measured length (I just eyeballed it). Sew some ribbon or strips of fabric to each corner and you can tie the fabric to each corner once it is opened up.
Are you still with me?
I made 3 tents, and I bought some fabric as well as used a flat double bed sheet.
I also added some battery fairy lights and tassels to the tents for party day, but you could do anything you like to make them look pretty.
The kids absolutely loved playing in them, some of the boys pretended they were tunnels that led to different worlds! Gotta love a kids imagination.
This is what the party looked like, it was a great success, and most importantly, it was STRESS FREE!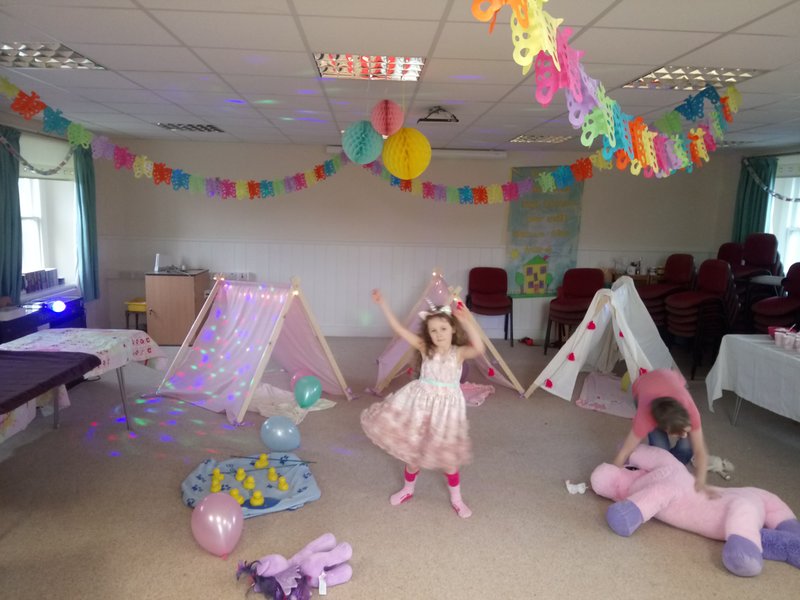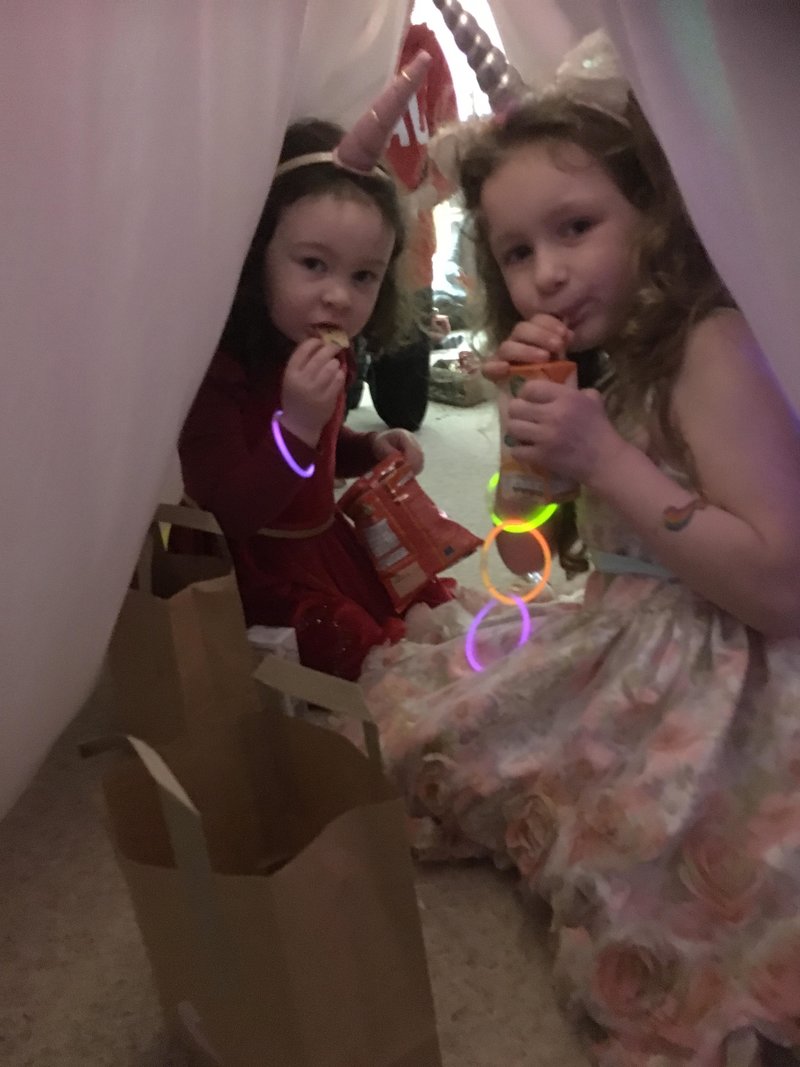 For more party tips and tricks, keep an eye on the Red Beau Facebook page.
www.facebook.com/redbeaupartybox
Danielle x
How do our prices compare?
Somebody asked me the other day, how much it would cost to buy all of the contents of a Red Beau party box, individually, and it got me thinking….
I went on to a popular website that sells all sorts of party and craft items, and I filled my basket with as many similar items as I could, although some were just not available. Here is what I found -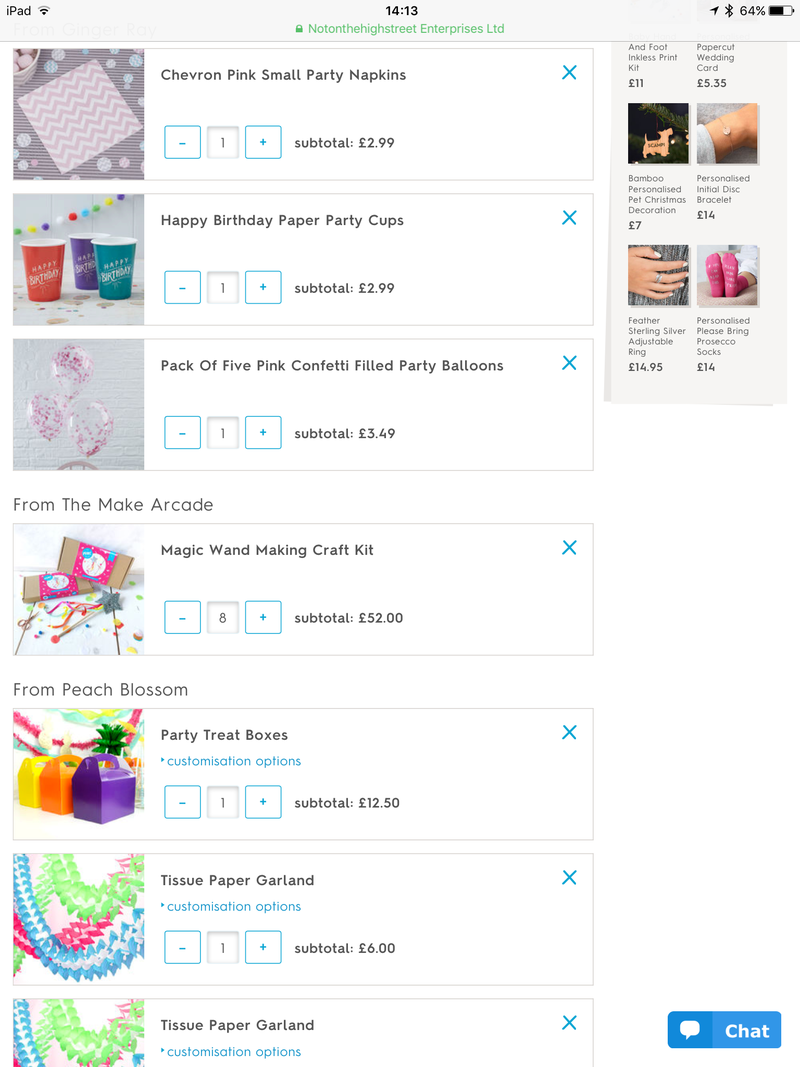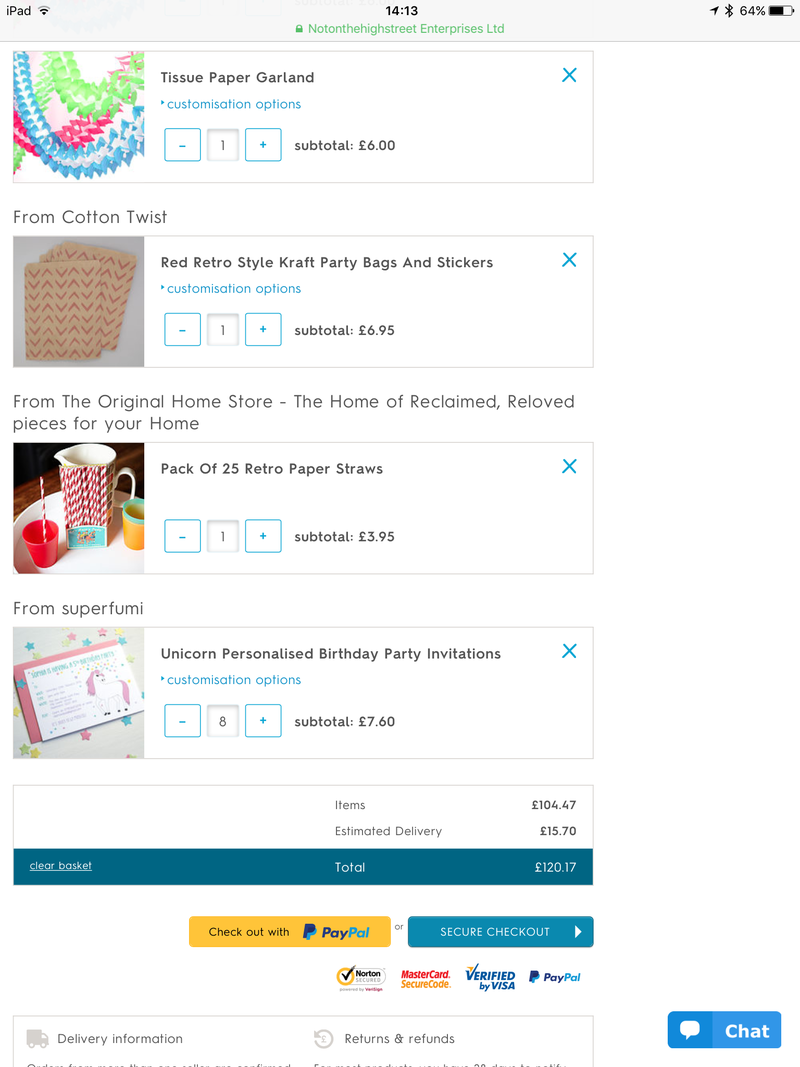 In the sword/wand completeparty box (which this is based on), you will also find
personalised table cover and clips

Scratch art bracelets

Superwashable pens

badge making kit for 8

Birthday candles

Party planner and food shopping list

Complete party plan
I was also unable to locate a sword craft kit, so I added all wands to the basket.
All of the craft doubles up as the party bag gifts (as well as a slice of cake, of course!)
As you can see, the total comes to considerably more than £100, and that doesn't even include a surprise gift for the birthday child and the beautiful Red Beau packaging!
We want you to have a beautiful, unique party that is stress free and good value, and we are very passionate about that.
Danielle at Red Beau x
How to make stand out party bags, without the tat!
Don't get me wrong, my daughter loves a bag of tat at the end of a birthday party, but as a parent, you just have to groan knowing that all of those little plastic pieces are going to be all over the house never to be played with again!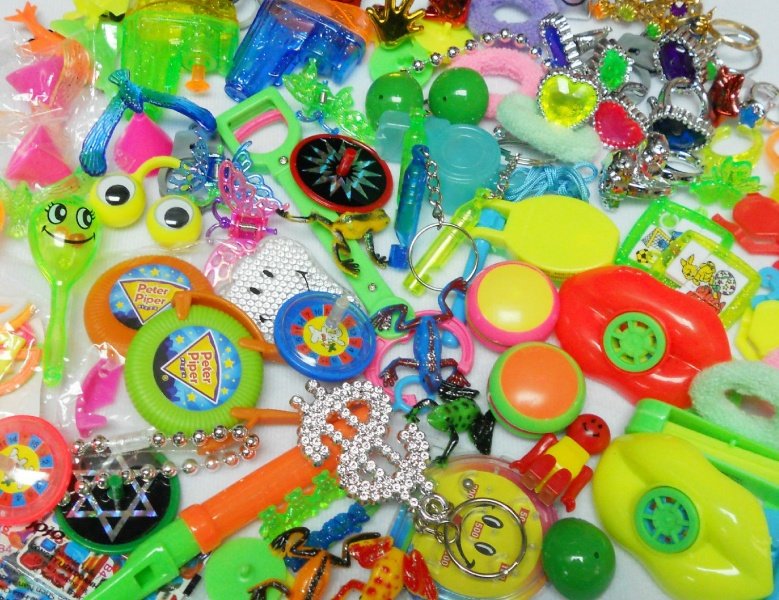 It's really not any more expensive to make up exciting party bags that the kids will remember, and that fits in with the theme of the party, if you just shop around or think a little more creatively.
Another nice touch, that doesn't cost any extra, is to use paper party bags rather than the garishly bright coloured plastic ones. Just buy paper sweet bags and use a pretty sticker to seal shut, or stamp a design on the front.
For example, one year, my son had a party at a climbing wall, so instead of party bags, I thought I would give them their own water bottle with carabiner attached. I also tied a bungee balloon & sweets to the bottles and hung them all from a bungee cord from their carabiner with a little printed 'thank you for coming' tag.
I found the bottles at 2 for £1, bungee balloons at 5 for a £1 and the sweets are always on offer in supermarkets. I bought the bungee cord to hang them from for £1 also, but a lot of people already have these to keep things in place in their car boots etc.
So, as you can see, each gift was less than £1, and I'm sure this can be done anywhere. Ebay is a great place to look for items in bulk, as are discount stores, Amazon or pound shops.
It doesn't have to take much time or creativity, but if you do like to get stuck in, then you could try something tailor made.
For example, when my daughter had a Superheroes and Unicorn party, I made all of the children felt superhero masks and unicorn horns. No sewing involved because felt doesn't fray, but once I had a template for the mask and horn, I could use glue for all of the decoration. It took some time on the run up to the party (because I had 30 to make!) but it wasn't difficult, and all of the children went away with a themed gift that they could wear over and over for dressing up.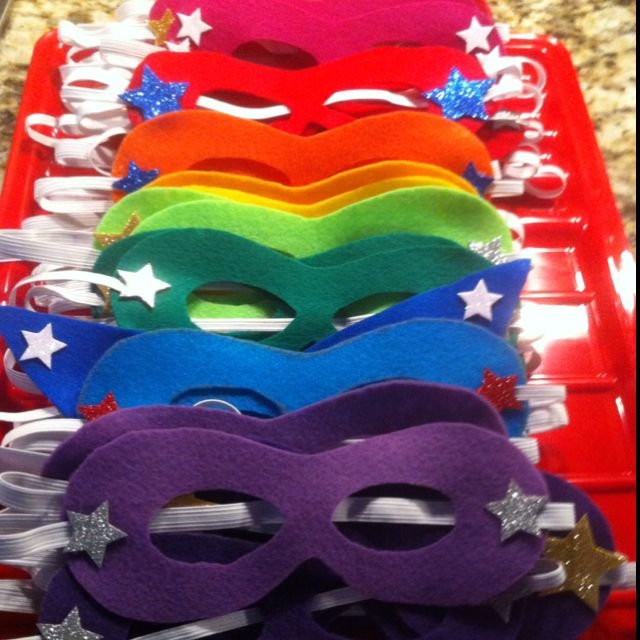 Now craft parties are what I know best, and it's great to see when you can show the children how to make something really lovely and creative, that they can then take away with them. If you wanted them to have a separate party bag, then you could put together another craft kit for them to do at home.
Once you've broken down the components of a craft and split them between the party bags, it can be quite a unique but cost effective gift.
If your child loves craft parties, but you really don't feel you have the time to commit to thinking up ideas, or you don't want the mess. You could always buy the party ready made, like this one. Maximum fun with minimum mess, and no stress!
So you really need to think about your theme, and what would fit in -
Ball/sports party - they could go home with a small football or drinks bottle (you can easily personalise with vinyl stickers too)
Nerf party - some darts, face paint stick (for camoflage) or even a mini dart gun.
Cupcake party - components for decorating cakes at home e.g. small pack of fondant, tube of icing, sprinkles or wafer pictures, cake cases or cake mix.
These are just some ideas, there are soooo many party themes out there, just try to think outside the box a little and work with the theme if you can. Your child and fellow parents will thank you for it ;)
Thank you for reading to the end, I hope you find this helpful and if you have a moment to spare, I'd love to hear your comments.
Danielle at Red Beau x
Easy party food that won't break the bank!
So you've taken the plunge and decided to plan a birthday party for your dear little one, but you're working on a budget, so you could be left wondering 'what on earth do people feed kids at a party these days?!'
When I was a kid, it was all about the ham sandwiches, jelly, ice cream and black forest gateaux (that might give away my age a little!) but unless you want a load of sugar fuelled crazy kids running around, I'd think a little more creatively!
If you have the time, I would highly recommend you buy bits from the supermarket as you see them on offer on the weeks leading up to the party, but sometimes we're just flying by the seat of our pants and just do not have the fore thought for that kind of organisation! Not to fear though, because I will show you alternative and cost effective options -
Sandwiches are great in theory, but they take ages to make, and often just get left for the grown ups to eat at the end. You need to find a good mix of savoury and sweet, with some fruit/veg options among them from my experience. If you have plenty of time and helpers, then give these a try
https://www.myfussyeater.com/ham-cheese-puff-pastry-roll-ups/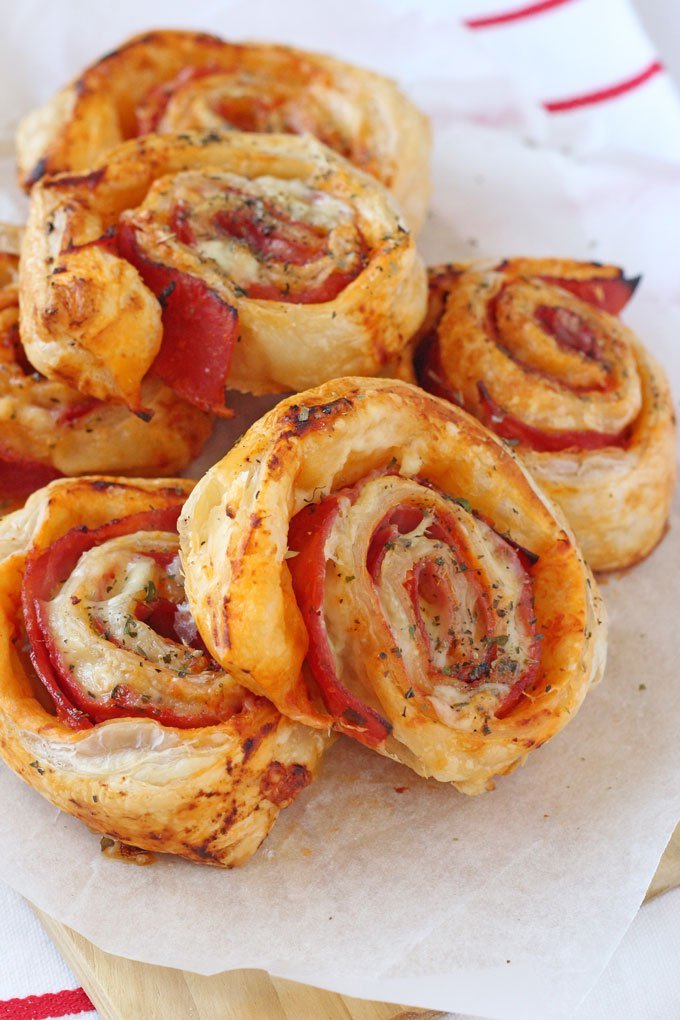 Ham & cheese puff pastry rolls
by My Fussy Eater
If you are short of helpers and want to just be able to work in advance and pop things down on the table, then here is my budget friendly shopping list -
Based on 20 kids
3 x Pizzas
1 x Large tub pre cooked cocktail sausages
1 x Cooked bag of frozen sausage rolls
1 x Pack of mild cheese cut into sticks
1 x Bag of potato wedges
1 x Pack of cheese twists
1 x Large bag of carrot sticks
1 x Punnet of cherry tomatoes (halved)
3 x Large packs of crisps (at least 2 varieties)
Variety of biscuits
Little cakes/brownies or flapjacks (A pack of each would be handy, Asda have 26 in a box at 2 for £3)
Strawberries or other soft fruits
(If you use grapes, please cut them in half as they are a serious choking hazard)
Birthday Cake!
You can of course add or take away from this list, but this is a good level of variety that will suit a limited budget. If you don't have a list and quantities in mind before you go shopping, you WILL spend a fortune and keep adding things 'just in case'. If you are including drinks in to your shopping list, you can't go wrong with jugs of orange cordial, apple & blackcurrant cordial and a jug of water. These will suit most of the kids, if not all.
I added all of the items on to an Asda shopping list for you, just to give you an idea on price, and including a nice big chocolate cake with Happy Birthday on, it came to £27.78!
I chose mini flapjacks and brownies for the cakes, strawberries and grapes. Cheesy balls, salt & vinegar twists and plain walkers for the crisps and party rings + Cadburys chocolate fingers & Oreos for the biscuits.
You don't need piles of food either, kids don't actually eat that much at parties, there is often far too much going on for them to sit and eat a big meal.
If you are serving hot pizza and wedges but you don't have an oven at the venue, or you don't want to be stuck in the kitchen. Cook them before the party, put them in a container, wrap it in tea towels then pop in to an insulated bag. They will stay nice and hot and will be ready to go when you are.
Of course this list won't suit every one of you party planners, everybody has different budgets and dietary needs, but I hope it is a good guide for those of you shopping on a budget, to save you over spending and wasting too much food!
In all of my Red Beau party boxes, I provide a full shopping list and individual party food boxes to help you busy parents out. The boxes save you money just by providing everything you need, rather then a whole load of things we tend to buy and then not even use!
Much love,
Danielle at Red Beau x
This is me!
I thought it might be useful if I told you a little bit about myself, why I love being creative and how I came to design party boxes.
You may have noticed that I live on a sheep farm from the occasional picture I post, I'm very lucky! I luurve to play netball and we are also a sugar free family and have been for over a year but I won't talk about any of those things for now, I'll keep it relevant to Red Beau as you can always check out www.facebook.com/therealsugarfreefarm for more information on that if you wish.
Well pottery is at the very beginning of the story as I decided as a child, that I really wanted to be a potter when I grew up! Bear in mind that I didn't know any potters, so it surprised my parents a little, but I do remember that I loved to make things. My most exciting memories as a child were visiting a pottery while on holiday in Northumberland, they taught me a few techniques which I still use today, and also, the year that I got a battery operated potters wheel for Christmas (well done Nana & Grandad for finding that one!)
I always had a 'making bag' full of craft bits and bobs and my head was bursting full of ideas to transform toilet roll tubes and turn old packaging in to an elephant or something equally as crazy.
Fast forward to my teens and I decided to do a BTEC Diploma in foundation art and design and then on to university to study Ceramic, Glass and Plastics. After my degree, I started to design and make porcelain paperclay lighting (paperclay is when you mix a paper pulp into liquid clay, which I did to give it the strength to be manipulated before firing). I really enjoyed making the lamps and working with clay but when I decided to have children, this all changed as a workshop isn't a safe place for children and I didn't earn enough money to use a childminder, and I wanted to spend a much time as I could with them anyway. Time goes too quick when they are young, my party planning skills really started to bloom while the children were little though. I was a volunteer chairperson at Playgroup and Toddlers for 7 years and then went on to PTFA and the village kids committee (both of which I am still on). During this time, I have organised many Christmas/summer parties & disco's along with multiple fundraisers every year, and my own children's parties of course. So I have a very good feel for what works and what doesn't and it pains me to see other mums struggling along when I just want to help them and pass on my experience!
Now we're getting to the part where I decided to start my business, my daughter was about to start primary school so I wanted to throw myself into something and so looking back at my skills, this seemed the logical choice, putting 2 skills together. To be honest, it was a friend that actually connected the dots for me, so I am very grateful to her for helping me realise. There didn't seem to be much on the market that actually planned a party out and provided everything you would need, the gap jumps from a personal party planner (quite pricey) to a box of matching decorations that offers no help. I also wanted the boxes to be an exciting thing to receive in the post and to feel nice and luxurious with paper decorations, that's where the red bow comes in. I planned to offer party boxes only, but a couple of friends asked if I could do a pottery party for them and I just couldn't say no. Playing with clay and teaching the children for an hour and a half is a lot of fun! So I now offer a limited number of pottery parties to ensure that I am still able to keep a work/life balance with my children.
If you would like to have a look at any party boxes, you can click on 'shop' at the top of the page and if you would like to check out the pottery parties, choose 'pottery parties'.
Thanks for reading, if you have any questions, feel free to message me through the contact page or email hello@redbeau.co.uk
10 Tips for an awesome traditional birthday party
Oldies but Goodies!
My daughter turned 5 a couple of weeks ago, so I decided to hire the local village hall and set about planning a party full of good old traditional party games and the kids loved it. To save you from any stress if you are planning to do the same, here are my top 10 tips -
1. Always have something for the children to do as they are arriving and between the games.
My party had a unicorn and superheroes theme, so I set up a Superheroes obstacle course for the kids to play around on. If the children are quite young, you could borrow lots of ride on toys and have a race track or you could have a lego table, crafts, anything you want but it needs to be something that they can keep going back to.
2.Lots of balloons!
This is also something that will entertain the children between games, keeping them up in the air, popping them etc, but they also make a room say 'party' like nothing else can.
3.Pass the parcel
You've got to do it, the most traditional of all party games surely? Well these days, there are certain expectations to uphold! Make sure you have enough layers for every child to have at least one turn at unwrapping, you may need to have 2 parcels on the go at the same time to make this possible.
Put a little toy, temporary tattoo or sweet between each layer so that every child gets a prize.
Before the game starts, explain to the children that if the music stops on them and they have already had a turn, keep passing it on until it reaches a child that hasn't yet had a go.
4.Musical statues or bumps
As you know, the children dance around to the music and when the music stops, they either bump down on to their bums or stand statue still - a great game for tiring out the kids so that they settle down to eat! Every time a child is called 'out', give them a token treat, or sweet and give them a 'well done' they'll be chuffed to bits.
5.Pin the tail on the donkey
I've mentioned in a previous blog that I am a big fan of this party game, you can now get all sorts of themes and versions. We used a 'pin the horn on the unicorn' but I made sure that I had written all of the childrens' names on the stickers before hand as it can be quite time consuming doing it during the game and getting the kids to remember what number they are, is just a lost cause!
I recommend using a scarf to blindfold them because if you use the blindfold that comes with the kits, the children will find a way of peeking, it's just programmed into them, they can't help themselves!
6.Party food
Traditional party food is sandwiches, crisps, cocktail sausages, carrot sticks etc and this is great but I wouldn't get too hung up on sticking to traditional with this one. Go with whatever makes life easier on the day, platters and pre made packets from supermarkets are easy or if you have a helper in the kitchen then you could have somebody cooking up some pizza and chips.
At our party, I made up a food box for each child containing a sausage roll, crisps, carton, wrapped biscuit and a piece of fruit but other good ideas are carrot sticks, yogurt tubes, cheese sticks, pizza or sandwiches. It made it quick and easy and I knew everybody had got one of everything.
7.Four Corners
This is another game that can be tailored to the theme or characters of the party. All you need to do, is print off 4 different pictures/colours or names relating to your theme (I chose Superman, Captain America, Spiderman and Batman for my Superhero theme) and stick them up in the four corners of the room. The kids all dance to the music in the middle of the room and when the music stops, the person in charge turns around and closes their eyes while the children all choose a corner to run towards.
They can choose any corner they wish and as many or as few can go to that corner, so you might have some corners with lots of kids, some with just 2 or even none. The person with their eyes shut, calls out a corner and everybody in that corner is now out. The remaining children go back to the middle of the room and start dancing to the music until it stops and they again choose a corner (it can be the same one or a different one, it's up to them) and the party goes on like this until only 1 person is left in and is a winner.
Alternatively, you could have the four corner names on balls or pieces of paper in a bag and they can be picked out at random, saving anybody the stress of choosing themselves.
8.Prizes
Depending on your budget, and how many sweets you want the kids to eat at the party (eek), is what will depict what you choose as prizes on the day. I recommend having a tub full of little prizes like sweets, temporary tattoos, stickers, plastic tat etc for the runners up at games like four corners, pin the tail and musical statues and also a few bigger prizes like lucky bags or colouring sets for the winners.
Make sure you have plenty, just in case you get more than one winner per game - it happens ;)!
9.Disco
Sometimes the children just want to be free to run around, throw some shapes on the dance floor, so try to guage how the party is going. If they need a little break from the games or you finish early, crank the music up loud and turn the lights down so that they can get stuck in. I like to bring out the Black Lace album and teach them a bit of agadoo & superman, personally, he he but you'll have to see how the kids feel about that. It could go down like a lead balloon!
10.Party Bags
This can be quite a big deal in some schools but there doesn't seem to be that competitive edge among my kids' friends so I'm lucky. The traditional route would be the named plastic party bag with a slice of cake wrapped in a napkin, some sweets, bubbles and a load of plastic tat (which the kids love might I add). I like to add something that whistles, just to please the parents *she says with an evil grin*.
You don't have to go down this route though, you could look at the theme you have and choose something that fits. My daughter went to a pirate themed party once and they all got a foam pirates sword instead of a bag and when it was my sons climbing party, I bought all of the kids a water bottle and stuck a couple of extra bits to the outside with sellotape and hung them from carabiners from a bungee line. Just use your imagination.
There are, of course, many more traditional games that they can play, these are just my preference. But it's a great starting point if you just want that traditional birthday party full of good ol' fun.
Danielle
Red Beau Creative Party Boxes
---
My top 3 kids party games (and the best way to do them)
If you are going for a traditional kids party in a community hall for example, there are certain little nuggets of information that will help the party run smoothly, keeping the children from running riot and upholding their expectations.
I have compiled a list drawing on my own experience and from observing other childrens parties and where they sometimes fall short. That's not a criticism, it's just lack of experience but I'm going to help you avoid that with these helpful tips.
1. Pass the parcel, simple enough you say, just lots of layers surely? Well yes and no, there are certain expectations and rules to follow if you want to avoid meltdowns (and we certainly don't want any meltdowns). These days, each layer usually contains a little treat, this is often a sweetie or a little plastic toy but if the children are older, you could include a humorous dare, like pat your head and rub your tummy at the same time.
Another tip for pass the parcel is to make sure there are enough layers for everybody to have a turn at opening, or alternatively have 2 parcels going around at the same time (which is what I prefer to do).
I also feel it is important to explain at the beginning of the activity, that if they have already opened a layer and it lands on them when the music stops – keep passing it along to the next available person who hasn't yet had a turn. If they have all had a go, then it is a free for all and anybody can once again, open it when it lands on them. This has always worked really well for me in the past and parents are usually glad of it too, it can be heartbreaking seeing your child sat desperate for a go when the person next to them has had it 3 times!
2.Pinata, one of my favourites, I lurve a pinata! There are 2 kinds of pinata, one where you pull the string and one that you beat the c*@p out of to release the goodies inside. I have used both and the string pull is definitely more suited to the younger children (pre-school) and the beating one for the older kids.

The trick with a pull pinata, to avoid premature release :0, is to look inside the fill hole and work out which string is the winning one and then you can angle this so that it is at the back and perhaps influence the childrens choice slightly to make sure that most of them get a go before it is ripped open (it's usually a less popular colour like orange or green, which is smart of them).

With a traditional pinata, it's best to thread it on to a piece of string and then get two grown ups to hold each end to lift and lower it to make it more difficult to hit (making sure they are far enough away to not get hit themselves!) I don't usually bother with a blindfold, it's safer without, the moving it around varies the difficult enough in my experience. If you don't have 2 spare gown ups, find something to hang it from, away from anything that can get damaged.
To make it fair, I line the kids up in roughly age order, little ones first and I let them have 2 good hits each, if there aren't too many of them then they can go to the back of the queue and have another go. Pinata are actually quite difficult to so it's a good idea to get an older kid to finish off at the end by smashing it up and get all of the little ones poised and ready to pounce as soon as the bounty spills out.
If it's the end of the party then just let them grab away, but if it's still in full flow then it can be a good idea to get them to put everything into a big bag or basket and then share it out among the party bags at the end.
3.Pin the tail on the donkey, also a lot of fun. Line the children up and tie a scarf over the eyes of the child at the front, they are less likely to cheat with a scarf because it doesn't have any gaps (and they do like to cheat at this game). Have the donkey picture stuck to a wall (be careful not to take the paint off!) and pass the tail to the child. If you are using stickers, pre-write the childs name on or you'll never remember which number they had, or if you are pinning an actual tail, put a little arrow to the point they pinned with their name on.
There's just one winner in this game so make sure you have a little prize or medal to give out to the winner.
I have so many more party tips to give you, but these are my top 3 traditional games for now. If you want to get more tips on how to run a successful kids party then keep checking back on our website, or click the social media buttons at the top of the page x

How to get people to RSVP!!
Well, sorry to disappoint, but I'm not going to be able to tell you want you want to hear. You are just never going to get everybody to RSVP to your childs party straight away, it's just not going to happen.
But fear not, you are not alone and there are definitely ways around this issue that do not involve you giving evil dagger eyes to all of the parents in the playground that haven't replied!
The key is to lower your expectations, yes that's right, I said it, LOWER YOUR EXPECTATIONS! This way you can plan around it, because you have already accepted it as fact. Send out your invitations with an RSVP date earlier then you would normally put, this gives you time to put plan B….and then plan C into action.
Now I'm as guilty as the next Mum for not replying to invitations on time, the life of a Mum is just so hectic, you might have seen the invitation in the book bag but it was just when you were dashing to make tea before ballet of picking up from football. Once I have put the invitation down somewhere, it immediately leaves my head and it is replaced with a million other tasks.
 You could argue that it just requires a simple text message these days, but it doesn't, you have to check everyones schedule because you don't want to say yes only to realise that it clashes with another important event later on!
To me, by far the best strategy is to have a plan in place. So as I mentioned above (before my guilty confession), plan A is to give an earlier than normal RSVP date. Plan B is to then have a reminder letter (for book bags), text or email to all of the people who haven't replied because this is actually a really helpful thing to them as well as you.
Then we come to plan C, now, annoying as it may be that somebody hasn't yet replied, if you are having a party where you don't need definite numbers (like a soft play area or pottery party) then it is best to make up a couple of extra party bags just in case. If you don't have anybody extra coming then you could always give the spare bags to any siblings that had to come along and sit with their parents, it would make their day!
Now this could be going a little too far for some, but there is an optional plan D for those that like to use social media and that have a well connected group of friends. My children go to a small village school, so this would be an option for my kids' party and that would be to set up a Facebook event group. That way, you could put as many reminders or snippets of information as you wanted, as well as getting a tally of who was coming and who wasn't because all they need to do is click 'going' or 'not going' and fingers crossed that nobody ticks 'maybe' :)
If it is a party where you have had to give the venue exact numbers and pay for each child, then I think you are perfectly within your rights to explain to the parent that turns up without having replied to either of you messages, that as you did not hear back from them that they have not been included in the numbers but if they speak to the venue then perhaps they can arrange this themselves. Hopefully it won't come to that, I haven't heard of that happening before and if you have talked about your childs birthday on social media, then that should have prompted them also.
So this was a very long and in depth explanation on how to get people to RSVP! but as I know it is a particular bug bear to so many, I wanted to give you a strategy to work with or have in the back of your mind, for the next party you organise.
If there are any other party related questions that you need help with, please email me at hello@redbeau.co.uk and I will help as best I can.
Danielle x
Who to invite to your childs party?! 
Everyone - or just few?
This is a tricky one, and is quite dependant upon age, type of party and the size of the school or group of friends the child has. Below is a guide for each of these situations.


1 & 2 year olds -
If you are anything like me, then you will be keen to mark that first milestone of  your child turning 1 year old. It's an exciting time and you want them to feel extra special and have all of the bells and whistles, but trust me, it will not be how you pictured it in your mind! As much as you would love to have all of their little friends there, it will likely be too overwhelming for them resulting in tears and often shyness. Keep it small and relatively low key, perhaps just their favourite friend for a playdate, but with cake! or even just close family like aunties and uncles and grandparents. Another good option is to go somewhere fun for the day like an open farm of play area.


3 to 5 year olds -
By this age, your child is likely to be a lot more aware of birthday parties as they have probably already attended a few and may even ask for one. Now, you could go for the easy option and book a soft play area or something similar where everything is included, but this can be a very costly as it is usually the etiquette to invite the whole class (be it toddlers, nursery or school) and there is often a minimum number that you need to book for. Now there is definitely something to be said for sitting back and letting a venue do all of the hard work BUT it also means that you have no input into the party and it will definitely not be unique or particularly memorable.
The alternative for a larger party is to book a local venue yourself, like a village hall, community centre or club house and hire an entertainer. This can be cost effective for a large number of children and you have control of the decorations, theme and party food etc but if your child has a smaller group of friends or prefers less fuss, then traditional party games are the way to go, perhaps even at home.


5 -11 year olds -
This is when the fun really starts, your child will probably tell you who they want to their birthday party and exactly what kind of party they want. With this age group, you may need to gently remind them to be fair and explain how it would feel to the one child that they may have decided to leave out because they don't get on with them one day.
If you are having a big party with a larger venue and an entertainer or bouncy castle, then it is best to invite the whole class plus any other close friends and not leave anybody out. But if you are going for a more intimate affair, like a pottery painting party, the cinema or a sleepover, then let your child choose a select few, maybe 7 of their closest friends and stick to it. People will understand that just close friends are going to their birthday, not every child is going to have a big birthday bash every time.
Another issue we may have is,' what is the etiquette if your child was invited to somebody elses' party'? do you need to reciprocate? well I would say the answer to that is no! My 2 children were invited to a little boys party who is between their ages and in a completely different class. It was really nice to be invited along with the whole of the infants and some juniors (it's only a small village school) and they had a great time, but we took the child a present and that is all that is needed. If you have a massive party and invite a large number, then great, you can invite them back, no problem. But if you are having a more specialised or smaller party, then don't worry about it, it is not something to feel bad about.
Unexpected guests!
 Some parents will have no option but to bring siblings along to the party too, and although you would hope they will ask in advance if this is ok, it might be an idea to prepare for this eventuality. I'm sure they will not be expecting you to provide party bags and food for the extra child, but it might be a a good idea to have one or two spares, just in case (it's sad when you can see that they are desperate to join in). If the party is at a soft play area or open farm etc, that is also open to the public, then it is definitely the parents responsibility to pay for that child to enter as a member of the public, otherwise it could get very costly!


So, as a general rule, if you have a venue with traditional games, bouncy castle or entertainer, invite the whole class and close friends and family.
If it is at a soft play area or venue where you are paying per child in a package, then you could go with half of a large class or a full smaller class.
The cinema, pottery painting, sleep over or party at home is best to be kept to a handful of their closest buddies.




I hope this guide helped you decide on how many to invite, for more blogs in the future or to host an easy, all in one craft party at home - keep checking back to our website x